We take pride on highlighting great Canadian companies that produce high quality dog and cat products such treats, chews, toys, supplements and more. We truly believe that it is important to buy local and support local high quality small businesses throughout Canada. You can be assure that all our products listed in our site are made right here in Canada and are products that you can trust.
MEET OUR CANADIAN SUPPLIERS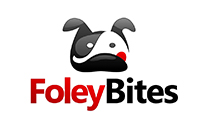 The Foley Dog Treat Company has dedicated itself to providing dogs and their owners with treats that are not only made from great holistic grain free ingredients, they are also "the only treat my dogs can have". 
What does this mean? Over the years that we have been producing our treats we have had a lot of feedback from loving dog parents and owners who have been searched for:
1) A Canadian made, grain free treat that has nothing to do with anything that is manufactured, produced, made, packaged, or shipped from China.  Foley Dog Treats are all made in Nanaimo, BC. We source everything locally, within BC or Canada where possible. 
2) A treat that is gluten free.  Dogs can get red sore spots, gooie eyes, diarrhea, and a host of other symptoms from treats and food that is processed and preserved with questionable ingredients. At Foley's we make our treats from simple unprocessed ingredients. 
3) Grain Free dog treats made with antibiotic and hormone free meats. Treats that have antioxidant and nutrient dense formulas that also have no preservatives, corn,  soy or added salt, sugar or colour. 
Thank you for choosing Foley Dog Treats. 
Cheryl and Noel Foley-Owners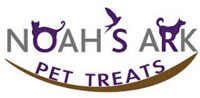 Located in Canada, and proudly BC-owned, we specialize in super premium all natural, SINGLE INGREDIENT, healthy dog, cat & other pet treats, raw muscles, organs, and bones
Since November 2006, when we first began experimenting with different pet treats from our home kitchen, we have tested and perfected what we believe are some of the best treats around!  In May 2010, we expanded to a full-size commercial kitchen which adheres to the strictest health and safety standards – and are now offering exceptional pet treats to select wholesale accounts.
Nothing more than just pure deliciousness.
100% ALL NATURAL, HEALTHY AND NUTRITIOUS Absolutely no additives, preservatives, coloring, or artificial flavors – pet parents can feel confident knowing exactly what they're feeding their beloved pets since these treats are made with just one high quality, human-grade ingredient! ALL OUR ITEMS WITH THE EXCEPTION TO BISCUITS, ARE SINGLE INGREDIENT
All of our delicious pet treats are made right here in beautiful Canada using all local and natural ingredients for our products. Dog food alludes to nourishment particularly proposed for utilization by pooches. Like all carnivores, canines have sharp, pointed teeth, and have short gastrointestinal tracts more qualified for the utilization of meat.

Our  pet treats were created for the truly health-conscious pet owner. Your pet's health is always our top priority and for this reason our treats contain no preservatives or additives. We are dedicated to providing your pet with an excellent alternative to commercial pet chews and treats.
All treats are made in our own commercial kitchen located in beautiful Abbotsford British Columbia.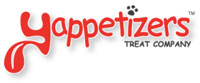 "We know that the quality of your pet's life is in your hands and you want to make the best possible choices… We feel the same way… That feeling is what inspired us to create our unique line of all natural products." Yappetizers Treat Company was founded in 2003, is proudly 100% Canadian owned and operates out of metro Vancouver in British Columbia. We make all of our treats in our own state-of-the-art facility located in Vancouver, BC. Yappetizers treats can be found in pet stores and specialty boutique shops across the country. Built on the premise that a natural diet is the only option for our companions, we created simple, biologically appropriate treats. Inspired by Kora, a beautiful red & tan Doberman with a taste for the best… We are proud to be part of the movement toward health and well-being for all pets and we look forward to serving your faithful companions for years to come.
www.yappetizers.com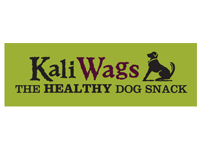 Dawn and Kali Wags: A Woman Finds Her Joy
Kali, a Golden Labrador, came into my life in 2003 and right away, I sought treats that were as healthy as the foods which I fed her. Finding a healthy treat that she would love posed a real challenge. There were no treats where the first ingredient listed was real meat. Almost every dog treat contained mostly carbohydrates (flour or rice) and far too little protein.
For the first year of Kali's life, I researched and experimented with baking treats for her. Soon I began to share prototypes with my friends' dogs. My list of willing taste testers began to expand, and I was encouraged to market my treats. Soon my treats were displayed in two stores on the North Shore. I was "in business", but I had to learn everything about sales and marketing. My early business tutors were helpful retailers who kept Kali Wags stocked on their shelves.
I sent my emerging treat recipe to the scientists at the Guelph Food and Technology Center to ensure that my product was truly well-balanced. With their consultation, I tweaked my recipe to approximate the standards for dog food, not just dog treats. I retained a marketing firm and we branded the product with a logo, labels and the tag line, "Even fussy dogs love them!". Naming the treats was easy. Every time Kali came near the treats, her tail began to wag so it was just natural to call them Kali Wags – The Healthy Dog Treat.
Kali was my official treat tester, but she was a Yellow Lab (they'll eat anything). I tried to find fussy dogs and today, many owners tell me that Kali Wags is the only treat which their dogs will eat. One woman wrote me and said that she could teach her dog to drive with Kali Wags!
Today Kali Wags are made from one third protein and egg, one third vegetables, and one third whole grains in three flavours: organic beef, natural peanut butter, and wild Alaskan salmon. I try to locally source my Kali Wags ingredients whenever possible. Since Kali's passing in 2013, our Goldendoodle (Teaka) has become the official taste-tester.
Kali Wags is very much a family business. They are dehydrated in our home with a large commercial dehydrator, and then weighed, packaged and shipped across Canada.  My partner John, and his niece, Kristen, help with the baking and packaging. My family and friends track retail inventories and suggest stores in the Lower Mainland.
We now have about 70 stores selling Kali Wags from Tofino to Toronto. PSC Natural Foods distributes Kali Wags for Western Canada, and the Thriftys Foods chain made us a local partner in 2014. We also provide treats to three dog-friendly, luxury hotels in BC.
Kali Wags is about aligning my passion for dogs with a home-based business. It's about finding the joy which healthy dogs can bring into our lives.
Dawn Farrow
​​Founder – Kali Wags
dsfa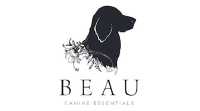 BEAU Canine Essentials is a Vancouver based company offering pure, rich, and natural coat cleaning and conditioning products. Our blends are for discerning dog parents who prefer natural grooming solutions to nurture their furry friend. We only use natural ingredients and botanical extracts of the highest quality and our products are expertly blended to yield and incomparably lush grooming experience.
www.beauessentials.com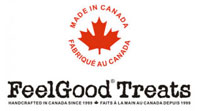 The FeelGood® Treat Company was established in North Vancouver, British Columbia in 1999. It was then that FeelGood® introduced its first product; the "Original Liver Brownie", a fresh frozen, semi-moist treat designed to be used for training and as a reward to reinforce good behaviour. Over the decade that followed, the FeelGood® Treat Company expanded its offering from a single treat at a single store to creating and manufacturing more than 25 different treats, sold in more than 600 stores across Canada.
www.feelgoodtreatco.com